RCM6700 Minicore Module
Rabbit® 6000 running up to 200 MHz
10/100 Ethernet and pin-compatible with MiniCore 802.11b/g wireless modules
1 MB of internal RAM for program storage
Up to 4 MB of serial Flash for datalogging or web page storage
Secure, anywhere management using iDigi Manager Pro™
The ultra-compact MiniCore RCM6700 is ideal for today's smart energy initiatives as well as other applications that require a cost effective web-enabled device server. It provides up to 6 serial ports, configurable I/O and control features such as PWM. The RCM 6700 series also offers a much greater feature set than comparable device servers—and at a lower cost.
The RCM6700 series is fully programmable, taking advantage of processor peripherals. The programming environment, Dynamic C, is an ANSI C compatible development environment that provides a royalty free TCP/IP stack and Wi-Fi support. Various protocol support such as ZigBee and Modbus are also available to help reduce development costs and time-to-market. The iDigi® platform simplifies device deployment by allowing devices to easily pass through firewalls, eliminating server maintainance and costly on-site visits.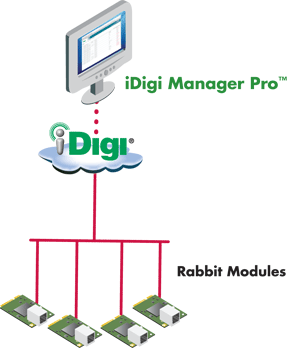 iDigi Manager Pro™ is a feature of all Digi cellular gateways, routers, devices and components. iDigi Manager Pro provides a robust suite of network management tools including authentication, configuration management, account management, asynchronous updates and alerts, group and individual software updating, network data storage and gateway programming.

iDigi Manager Pro empowers IT, network operations and customer support organizations to conquer the challenges of managing the vast array of cellular equipment in their device networks. Network managers can remotely configure, upgrade, monitor and troubleshoot remote devices, and create applications that improve productivity, speed and efficiency.
The MiniCore RCM6700 series of core modules is ideal for today's smart energy initiatives as well as a host of other applications requiring networking and device control. With plenty of configurable I/O and multiple serial ports, the RCM6700 provides connectivity and control to numerous devices, allowing for greater design flexibility without sacrificing features and cost.
Our integrated hardware and software solution allows the RCM6700 series to be fully programmable within Dynamic C®, an ANSI C compliant development environment. Complete samples and libraries are included to dramatically reduce development time from months to weeks. The iDigi® platform eases the burden of device deployment by providing complete remote monitoring and control, thereby eliminating server maintenance and costly on-site visits.
Communication and Control
The RCM6700 series are high performance device servers which contain a multitude of device connectivity options. This includes an I2C interface, A flexible interface module, FIM which extends peripheral connectivity like CANbus, 1-Wire and SD/SDIO. 32 Configurable I/O and up to 6 serial ports, the RCM6700 series provides more capabilities from the standard device servers without sacrificing costs. The series is also pin compatible with MiniCore 802.11 b/g modules.
Developing on the MiniCores
Custom samples and ready libraries dramatically reduce development time from months to weeks. Programming is done in Dynamic C which is ANSI C compatible allowing for easier code porting from existing applications.
Vertical Markets:
Energy Management, Building automation, Point-of-Sale, Industrial motor control